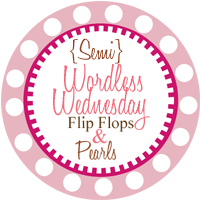 For this weeks wordless Wednesday I tought I would share with you some pictures from a trip we took to visit family. A few years ago we went down to Florida to visit our great aunt and uncle. They have always enjoyed flying and building planes. They live on a runway basically. The handful of homes in the area all surround the runway. They all fly and have hangers. They have 2 planes but what is more strange is that I actually went up in one. My husband about fell over when I said I would go. You see I have a fear of heights. Now flying commercial jets doesn't bother me at all, but this is a whole lot different. I told my husband the only reason why I decided to go was first I really trusted his counsins flying abilities and knew that he could get us down if there was a problem and second I felt like this was a once in a lifetime opportunity. How often will I ever get to do this? I had to go. Here is the plane we went up in.
Starting to take off.
Actually off the ground. I have to say my stomach dropped a little bit here.
Some views from the plane.
We flew over the Swanee river.
Here is the runway as we were about to land.
The hanger.

Their second plane.
You have to drive on the runway to get to the house.
All in all it was a scary but fun experience. Hope you enjoyed. Have a wonderful Wednesday.
Linda